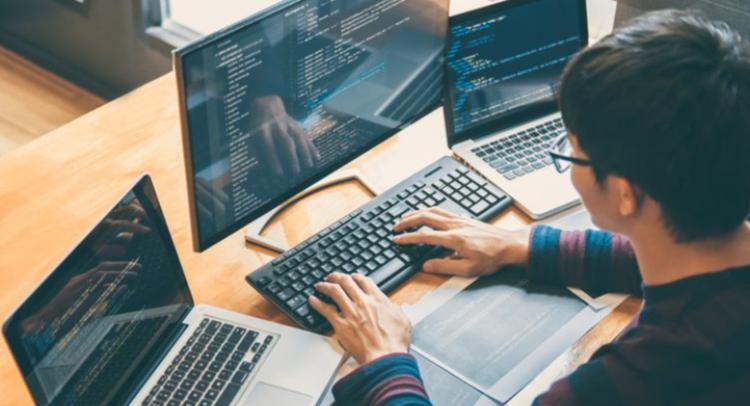 Node Js Web Development Services - Looking for the best Node Js Web Development services in Dubai? Infoquest is the leading company offering a wide range of web development services, even Node Js at a competitive price. Node.js is a popular open-source platform used in all advanced projects. Thus, there is a high demand for Node Js developer skills in Dubai.
Node.js can be used for creating scalable mobile applications as well as website applications that have a huge connection. There are tons of leading companies across the field that use Node.js for their projects. The major platforms include Twitter, Uber, Netflix, Slack, Coursera, and so on.
A quick and simple API that is mostly preferred by web developers. To hire Node Js developer for your business, then Infoquest is the solution. Here at Infoquest, we have highly dedicated web developer staff for Node.JS then reach out to us either by calling us at +971 4 519 4300, +971 50 856 6441, or writing us an email at sales@infoquestit.com
Why is Node Js popular for Web App Development Projects?
Node.js is a widely used open-source platform for developing web applications and we are used by big names like eBay, Amazon, Netflix, Paypal, and Reddit. Over 40% of web developers prefer Node Js for web applications. Thus, Node Js is truly a global open-source platform. Node.js was first introduced by Ryan Dahl in 2009 and was created to overcome the existing limitations of the editor like JavaScript. Node.JS helps in unifying web app development in a single programming language. That's why Node.js is quite popular across the globe and the company wants to hire Node Js Developer.
Now. let's take a look into some top reasons why Node Js is widely used for web application development projects-
First of all, Node Js is a language shared across the stack as it has been used for both front-end and back-end development. This helps in the easy exchange of code over server apps and makes communications between two teams quite smooth.
Secondly, A quite simple-to-learn language Node Js takes less time to learn and execute.
Also, Node.js hosts the world's largest library which makes it easy to solve any query. It helps in saving time as there is no need to program from the very beginning.
Moreover, Node Js is best for microservices as it has simple development and real-time applications that include chatbots.
At last, Amazon Web Services or AWS is among the most utilized hosting platforms and Node.js has native support in AWS which is obviously a huge advantage.
Best Node Js Web Development Services In Dubai - Infoquest
Infoquest is a leading Node.JS Development company in Dubai that utilizes a number of advanced tools, code, and agile-based methods for delivering the project on time. Highly professional developers guarantee 100% customizations and full assistance for Node JS Web projects. Also, Infoquest has a specialty in offering user-friendly, unique, and advanced technology-embedded projects as per the business requirement. Within Node Js Web Development services, Infoquest do cover the following sets of services -
Node Js support & maintenance
Node Js Migration
Node Js Customization
Node Js Mobile Development
Node Js API Development
Node Js Plugin Development
Node Js Integration Services
Node Js Microservices Development
Back-end Dashboards Development
We deliver client-centric projects that build on the requirement and objectives of the client's demand. For reliable, secure, and scalable Node.js projects with the latest technologies. Therefore, Infoquest is the place for getting personalized web app development projects with minimal investment in Dubai.
What Makes Infoquest As The Best Node Js Web Development Services Company In Dubai?
Infoquest is committed to offering highly innovative and customized Node J s application development services company in Dubai. We offer end-to-end support for the project, on-time delivery, and minimal investment. Also, Infoquest's developer team has years of experience with the skill set to handle any challenges. Now. let's take a look at some highlights of choosing Infoquest for Node Js web development services -
Highly responsive next-gen and scalable Node Js app development company.
Adhered to the NDA approach
24/7 support and assistance
A highly dedicated team of developers & designers
Over 10 years of experience handling projects across the fields.
100% customer satisfaction
That's why Infoquest is the leading Node Js web development services agency in Dubai, UAE. If you want to grow your business globally, then Infoquest is the one-shop-stop solution for IT solutions. Lastly, for further queries, feel free to reach out to Infoquest on the following details.
Contact Details
Company Name: Infoquest DMCC
Phone Number: +971 4 519 4300, +971 50 8566 441
Email Id: sales@infoquestit.com
Skype Id: Infoquestit
Address: Infoquest DMCC, P.O.Box: 50308, Unit 1113, DMCC Business Centre, Level No. 1, Jewellery & Gemplex 3, Dubai, United Arab Emirates
Frequently Asked Questions (FAQs)
Question - Why choose Node Js?
Answer - Node Js offers rapid development, scalability, and many more features. It is easy to use and has native support in AWS.
Question - Which company provides the best Node Js Web Development framework Services?
Answer - Infoquest is the best company that deals in Node Js app Development services.