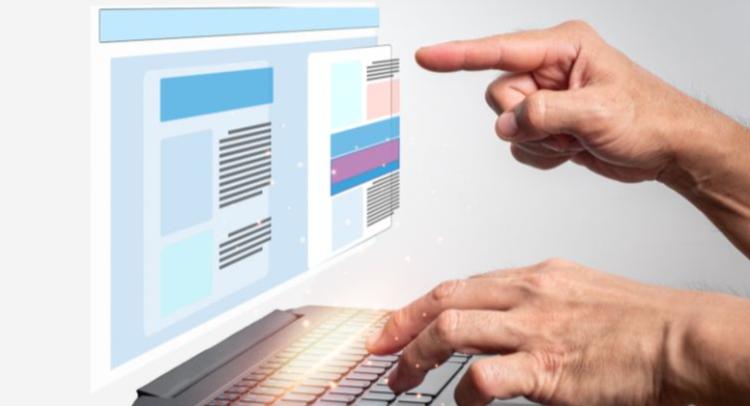 Web Design Sharjah - Websites are a vital part of any kind of business. Website design is a serious issue that should not be ignored. A professionally designed website may help you make a positive first impression on potential clients. Additionally, it might assist you to develop your leads and increase conversions. It offers a positive user experience and facilitates easy access and navigation for visitors to your website. Then we are here with the best web design Sharjah at Infoquest.
One of the most crucial components of any brand is an online presence that starts from a website, therefore you must consider it crucial. This may also grow your bottom-of-the-funnel leads on websites to increase conversions. Therefore, any website errors can lead to a loss of customers and increase retention costs.
Therefore, if you want a create a website for the audience, and should guarantee a positive user experience. A good website has many additional advantages for your company and your audience. So, reach out to Infoquest for responsive web design Dubai by calling us at +971 4 519 4300, or +971 50 8566 441. You can mail us at sales@infoquestit.com
Why There Is A Need For Website Design?
The success or failure of the business may depend on the website design. It genuinely affects how the target audience perceives the brand and may even convince them to become consumers. As a result, creating a website with an appealing user experience will lead to a significantly higher conversion rate, which improves sales and income. Here are the top reasons that justify one need for web design -
A Website is a reflection of what your brand builds and stands for. It is important to give thought to finalizing the color, fonts, pictures, and all the small things while designing a website.
As per the survey, over 70% of people judge a company's credibility based on visual design.
First impressions for the first 50 milliseconds create a first either a good or bad impression of a website.
More than 40% of people choose to stop using a particular website if they do not like the content and layout.
Mobile website user-friendliness is very important as most of the searches took place through mobile.
Website designing is important and the first step to an effective SEO strategy.
Welcome To The Best Company For Web Design Sharjah!
Infoquest is one of the best web designing companies in UAE that offer the best IT services for the fastest-growing businesses in Sharjah. Also, our company Infoquest works with many well-renowned companies so far including Thomson Reuters, Michelin, Subway, British Council, Atlantis, Dubai First, and many more. Apart from web design Sharjah service at Infoquest, we do offer other services including -
Moreover, Infoquest holds an experience of over a decade and proudly manages projects all across the fields such as sports, media, news, manufacturing, food chain, and many more. This makes Infoquest, a leading web design agency Dubai that offers a wide range of IT services at competitive packages.
Best Web Design Sharjah - Infoquest DMCC
Infoquest has the best staff of developers and designers that focuses on delivering quality projects. We have experience in handling, developing, and designing websites across all platforms. Infoquest has extensive experience in handling projects regarding E-Commerce web design Dubai and Responsive website design in Dubai. Also, here at Infoquest, we offer a highly efficient number of web design Sharjah that covers -
Create a responsive website for desktop, mobile, or tablet.
Website redesigning based on a more focused strategy for different projects.
Covering real-time security optimizing website performance, and overall maintenance.
Content Management System for the website owners.
Website design for app-like experience.
Enterprise portals
Developing and designing product website
Cloud hosting solutions
We assured that all web development projects were handled by highly skilled and experienced designers. That's why Infoquest is the top website designer Sharjah, United Arab Emirates. At last, if you want to know more about web design Sharjah, reach out to Infoquest at the following details!
Contact Details
Name - Infoquest DMCC
Phone Number - +971 4 519 4300, +971 50 8566 441
Email Id. - sales@infoquestit.com
Skype Id. - Infoquestit
Address - Infoquest DMCC, P.O.Box: 50308, Unit 1113, DMCC Business Centre, Level No. 1, Jewellery & Gemplex 3, Dubai, United Arab Emirates
Frequently Asked Questions (FAQs)
Question - Where can I get the best web design service in Sharjah, UAE?
Answer - Infoquest is the final destination for your web development and web design Sharjah, UAE.
Question - How much does web designing cost in Sharjah?
Answer - The estimated cost for web design ranges from AED 5500.