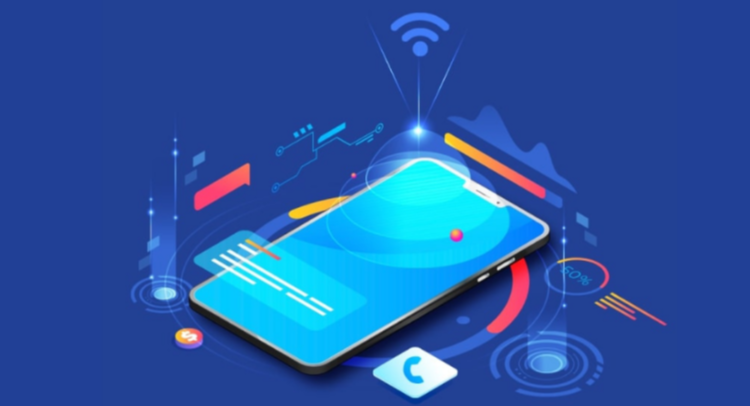 Mobile App Development Company In Saudi Arabia - Smartphones are not only a powerful tool for consumers but also for a business to reach out to its potential customers. By the end of 2023, the mobile application is estimated to grow approximately $940 billion in revenue. For any visionary business, investing in mobile app development is the foremost important investment right now. So, if you are looking for a Mobile app development company in Saudi Arabia? Infoquest is here with all the information required to know all about mobile application development.
Every other person on this planet has a smartphone which somehow has become an integral part of daily life. On the other hand, every business is struggling to gain a fraction of the attention of potential customers and what will be better than a mobile? Mobile apps open up new possibilities to reach out to customers at personal levels. Here at Infoquest, we understand the dynamics of this new world and how to utilize expertise and technology at the optimum levels to come up with unique IT solutions.
So, if you are looking for hiring an expert team of mobile app developers, then reach out to Infoquest either by calling us at +97145194300, or +971508566441. You can mail us at sales@infoquestit.com
Mobile Application Development & Its Importance | An Overview
As the name suggests, mobile application development is developing and designing a mobile application for different purposes. However, different kinds of mobile applications are developed using C#, JavaScript, etc. Many technologies are used for different mobile application development projects such as Native applications, Hybrid apps, Progressive web apps, Encapsulated apps, and Frameworks & libraries.
In addition, the overall cost of developing a mobile application depends upon different factors including no-code app builders, Enterprise apps, Mobile optimization, and the complexity of an app. Now, let's take a look into the top benefits of having mobile app development for any business -
First of all, having your mobile app increases customer loyalty and is even more important for some industries such as retail, FMCG, etc.
Secondly, the best way to increase visibility and accessibility is by having your mobile application.
Make a direct connection with your audience and understand their behavior.
Most importantly, a mobile app with a personalized user experience where the business can sell products and services directly to its customers.
Lastly, investing in mobile app development helps in boosting profits, and improve customer service.
Why Mobile App Development is Crucial for a Business?
We came up with a collection of useful stats that clearly shows that investing in mobile app development in Saudi Arabia offers high Returns -
Over 80% of people prefer mobile applications over websites for shopping.
Digital media (videos, blogs, ebooks, etc.) consumption via mobile Apple increased by 50%.
On average, mobile users spend three hours each day on a mobile application consuming some kind of digital media.
Mobile app payments are preferable and are likely to increase up to 53% by the end of 2023.
Also, mobile applications offer maximum levels of engagement and have a positive impact on customer loyalty.
As per the stats, mobile app downloads are over 218 billion and are increasing by an average of 7% each year.
Mobile app development is cost-effective and offers more ROI in a short period.
There are active 7 billion mobile users worldwide.
Top Mobile App Development Company In Saudi Arabia - Infoquest
Infoquest is the leading mobile app development company in Saudi Arabia because of its highly professional and skilled team of developers. We have extensive years of experience in mobile app development Saudi Arabia that is 100% personalized and offers real-time project access, scalability factor, cross-platform, and inbuilt security. Also, Infoquest has complete projects across the industry and does offer post-assistance and all the facilities are available at the best price. That makes Infoquest is among the top software development companies in Riyadh, Saudi Arabia. Now, Here is the list of mobile app development services offered by Infoquest -
iOS App Development
Android App Development
Native Mobile App Development
Mobile App Porting
Custom App Development
Windows App Development
PhoneGap Development
AR App Development
At last, we hope you find all the details regarding the best mobile app development company in Saudi Arabia. For further inquiries, feel free to reach out to Infoquest in the following details!
Contact Details
Company Name: Infoquest DMCC
Phone Number: +971 4 519 4300, +971 50 8566 441
Email Id: sales@infoquestit.com
Skype Id: Infoquestit
Address: Infoquest DMCC, P.O.Box: 50308, Unit 1113, DMCC Business Centre, Level No. 1, Jewellery & Gemplex 3, Dubai, United Arab Emirates
Frequently Asked Questions (FAQs)
Question - Who is the best mobile app development company in Saudi Arabia?
Answer - Infoquest is the best mobile app development company in Saudi Arabia.
Question - What are the perks of mobile app development?
Answer - Investing in mobile app development helps in building loyalty, and increasing visibility and brand image.